Recent Handwriting Font Testimonials

Scroll down to see them.
(click your browser's "Back" button to go back)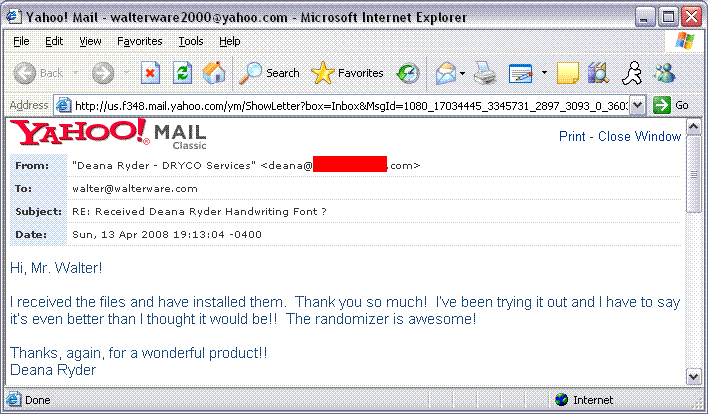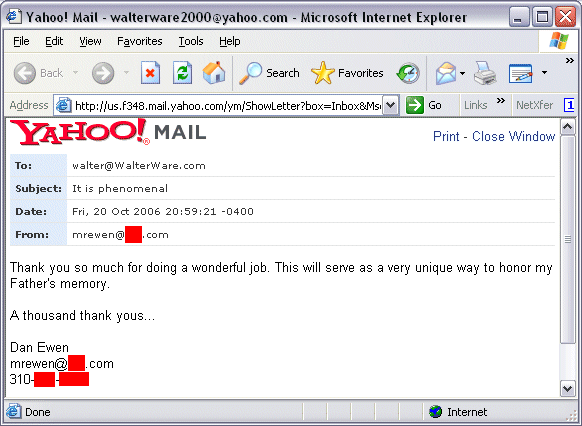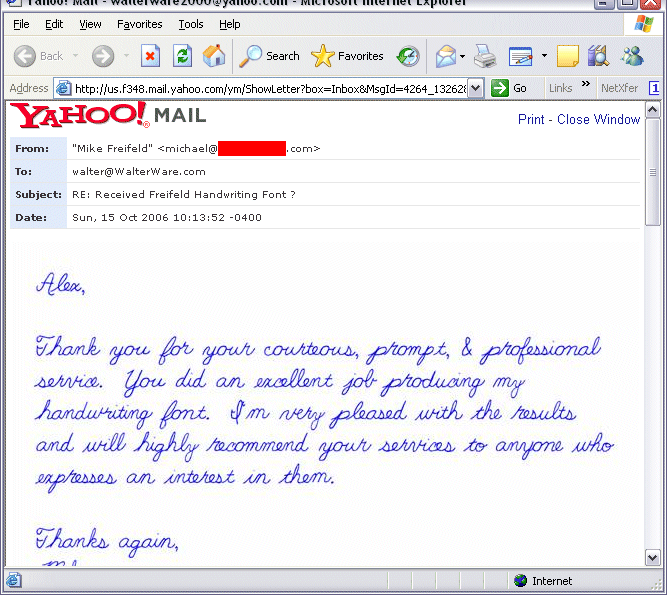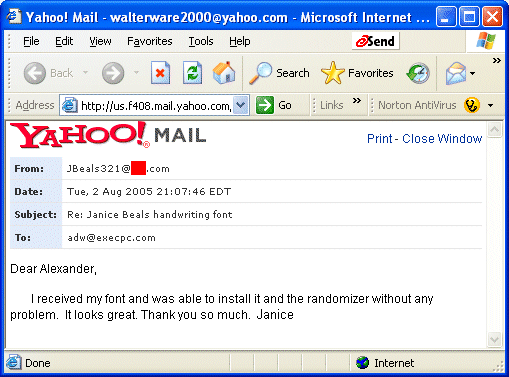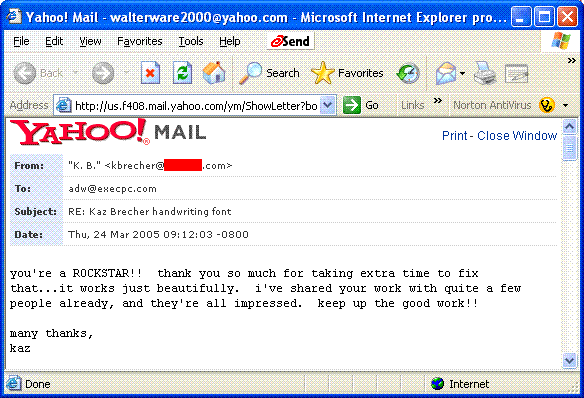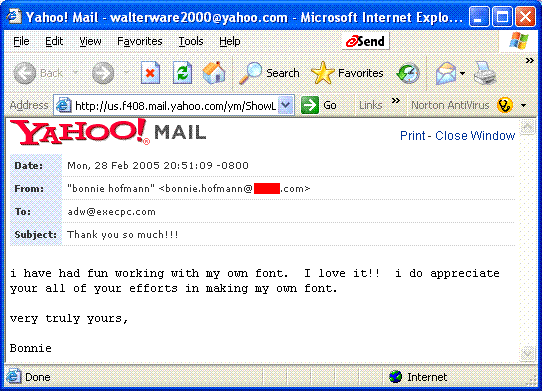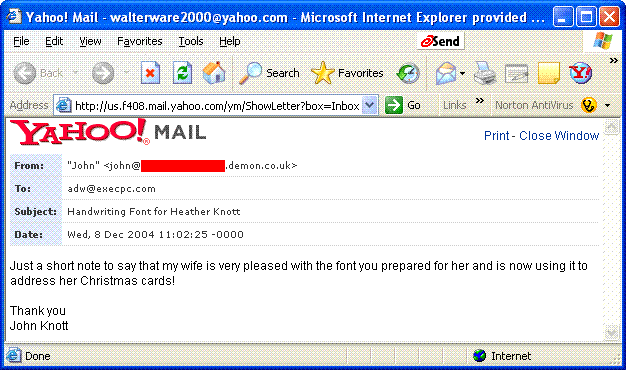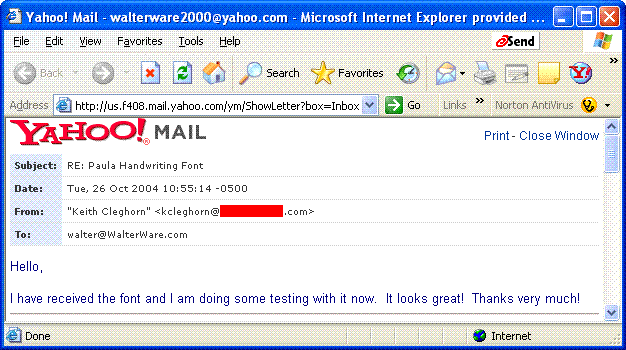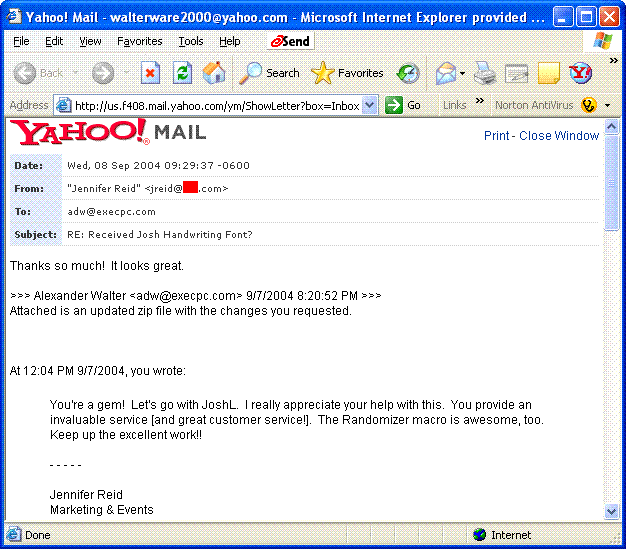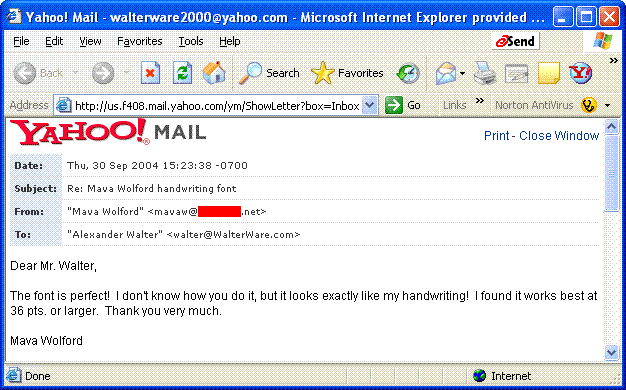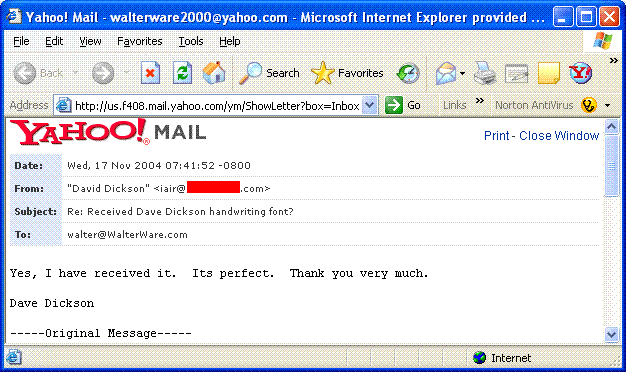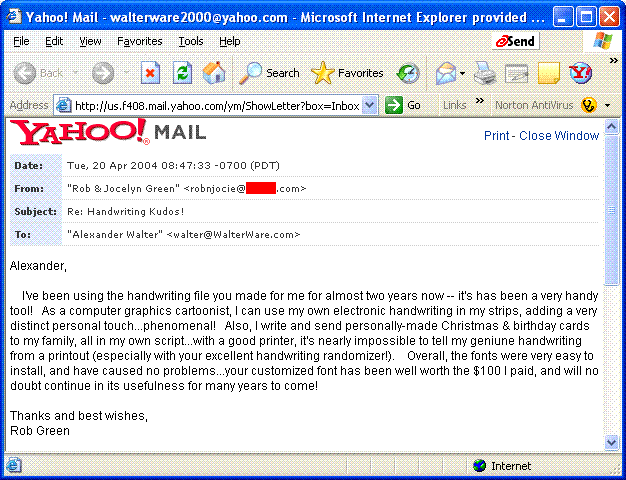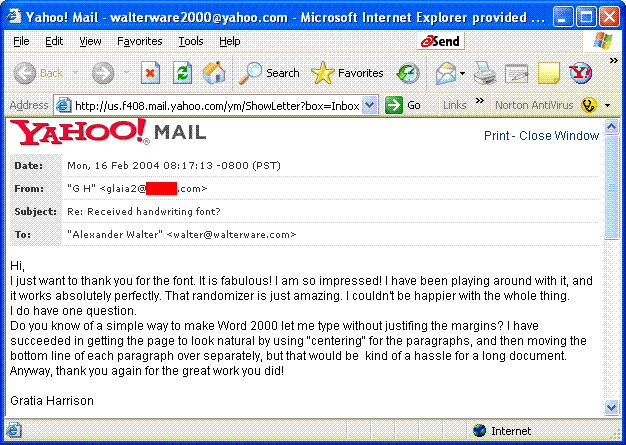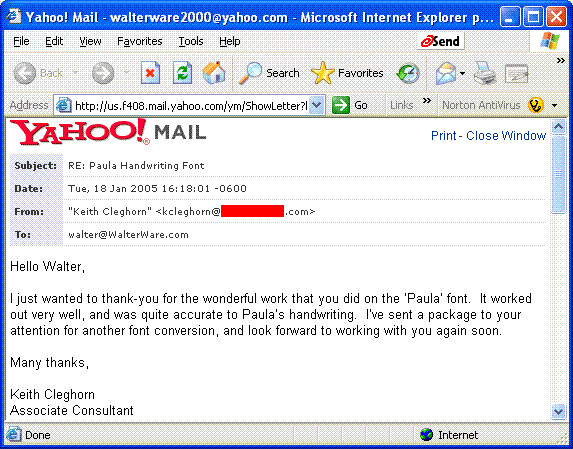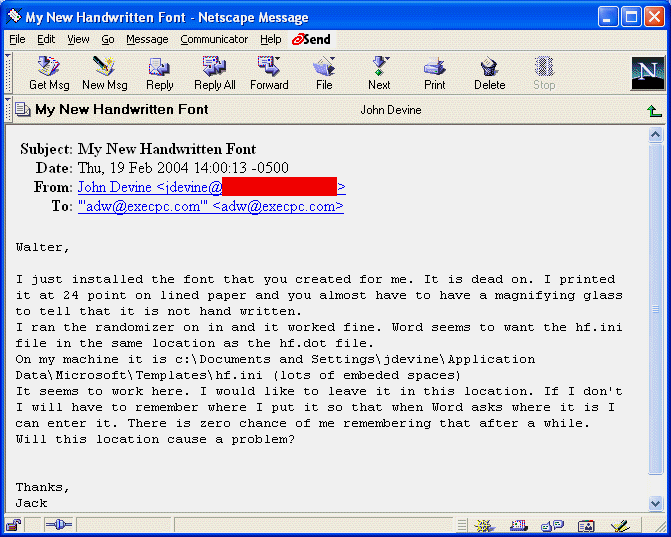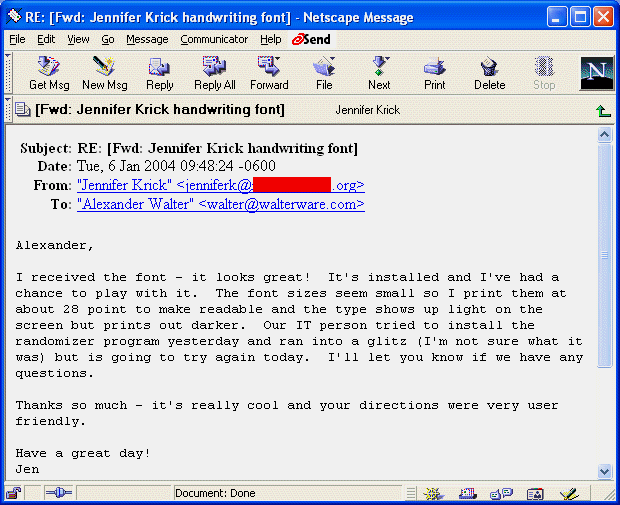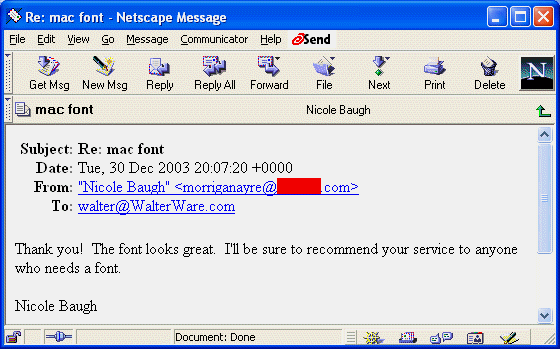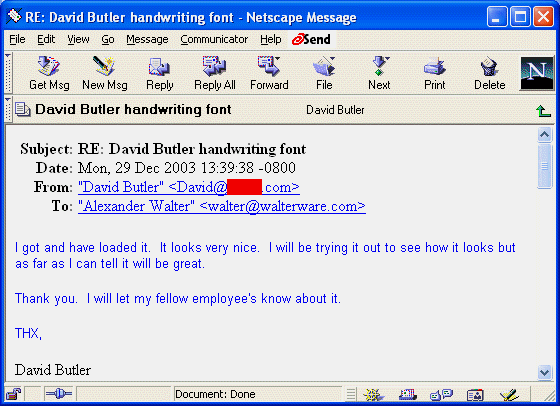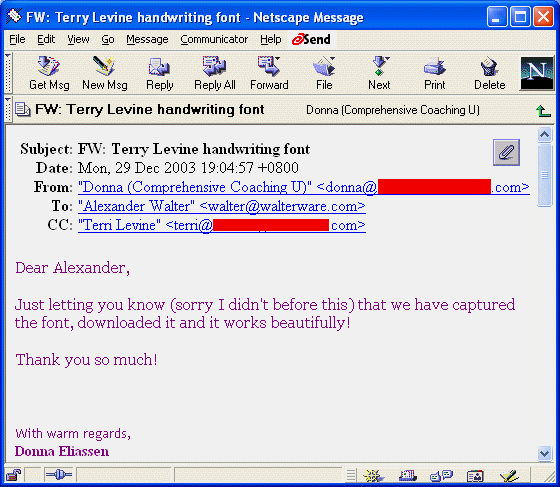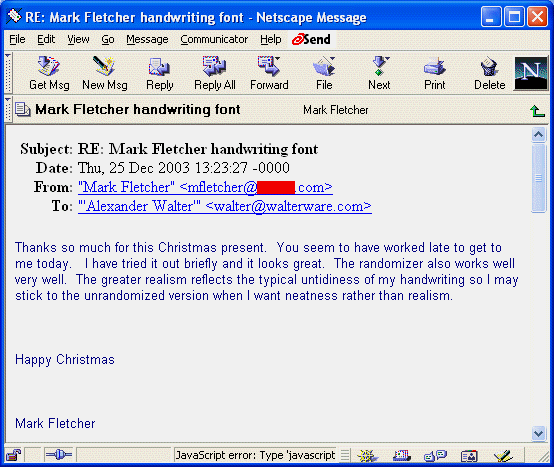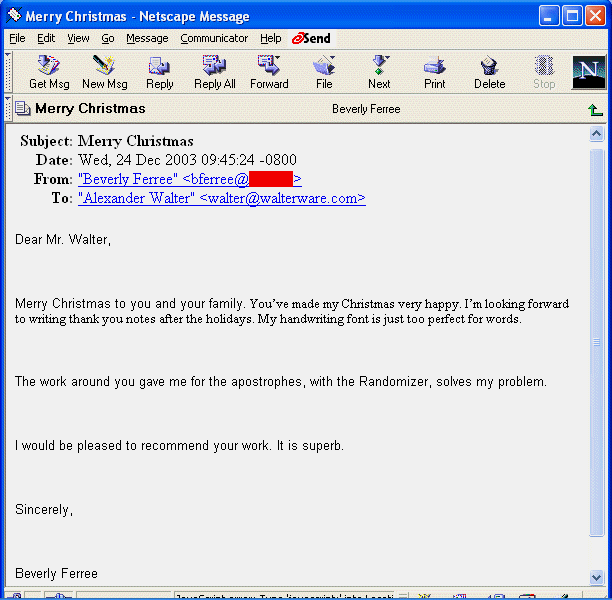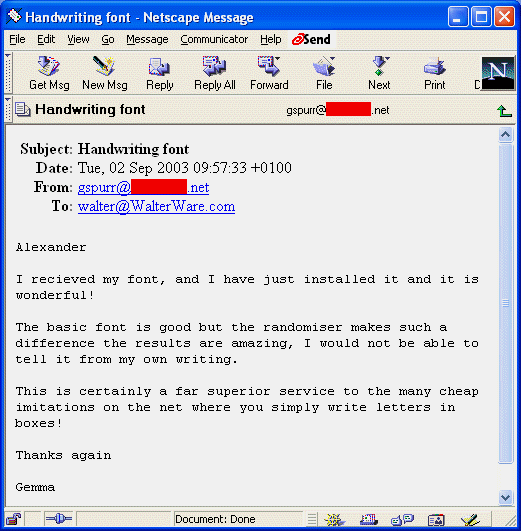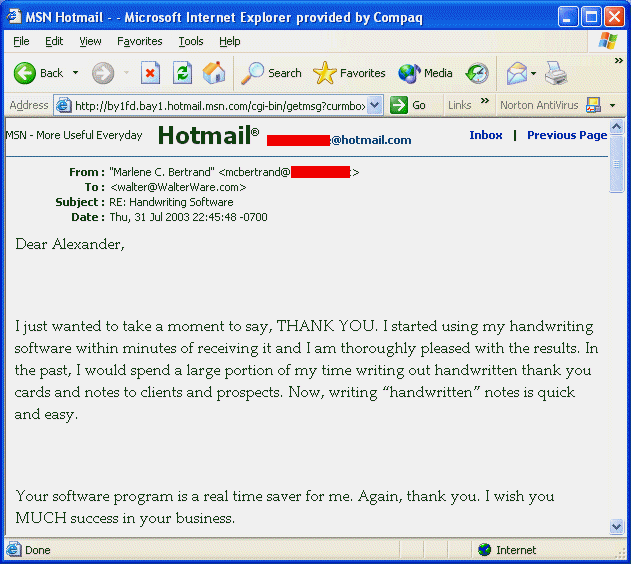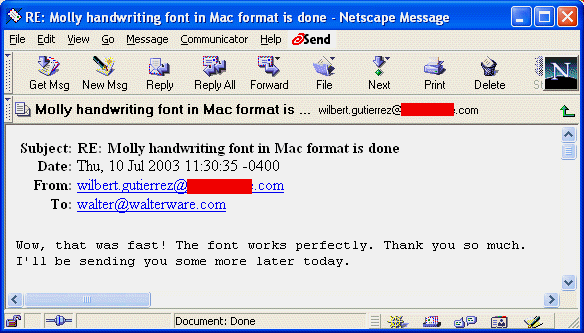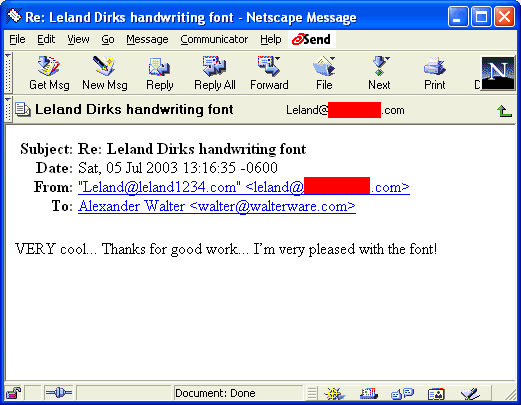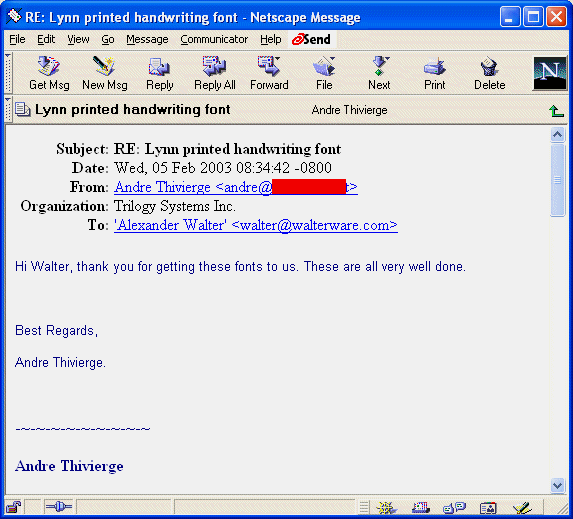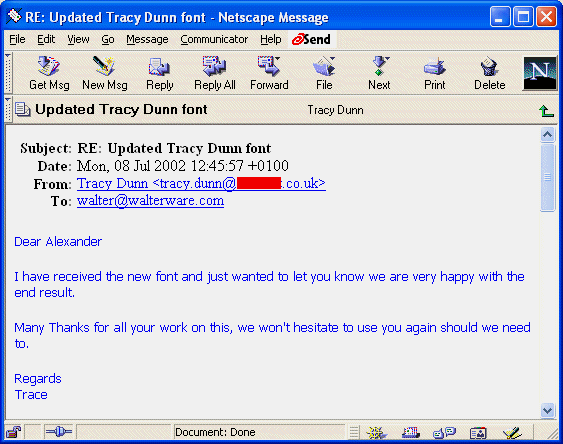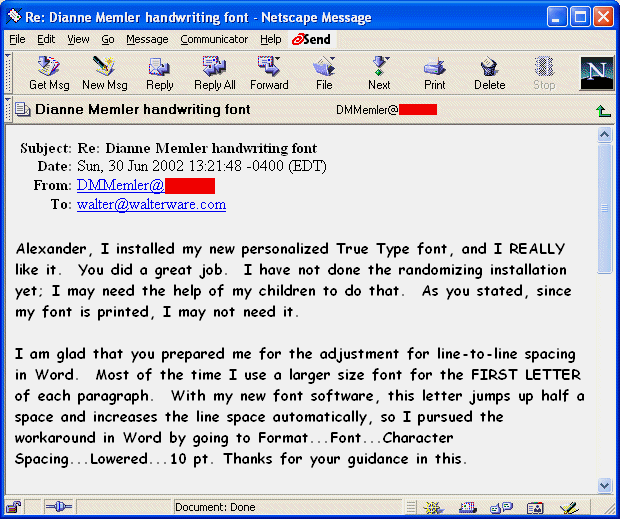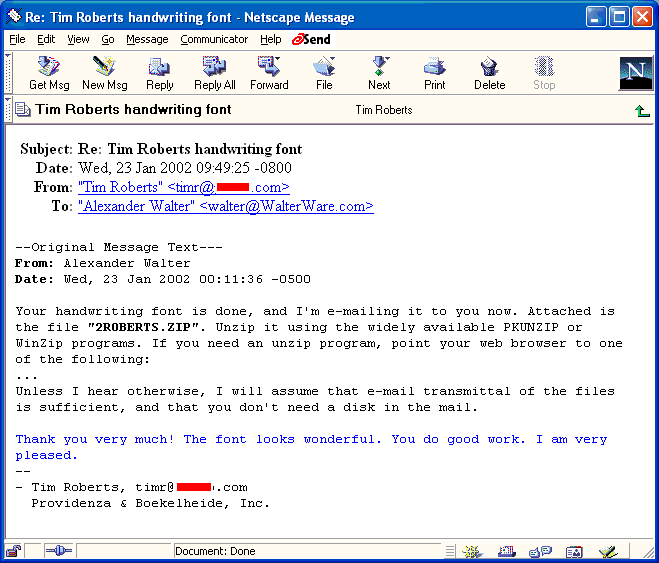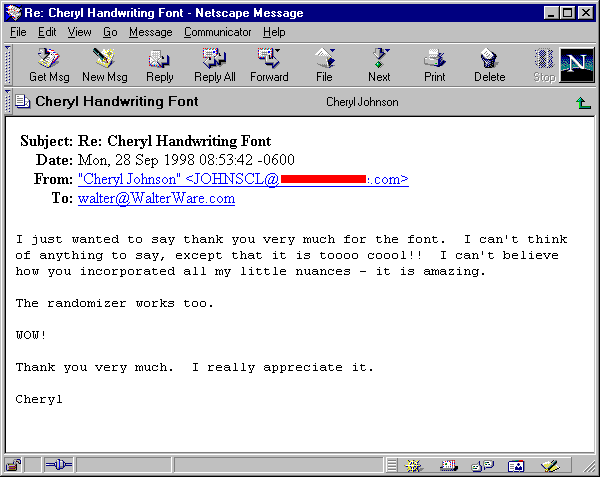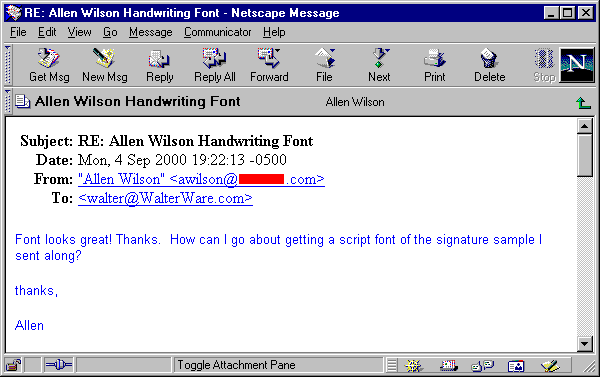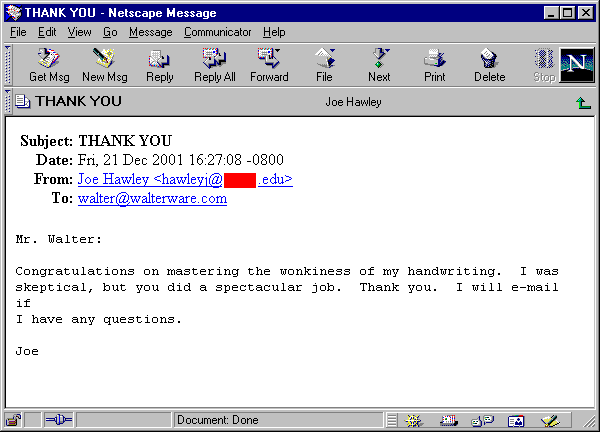 ---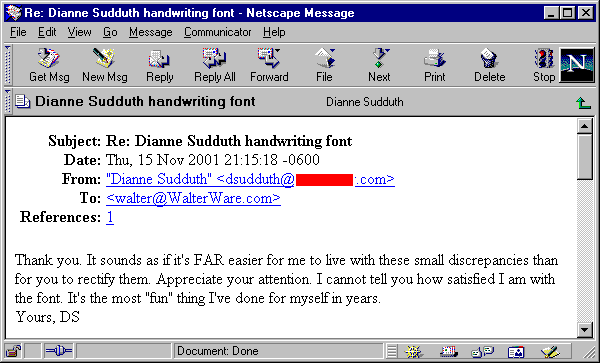 ---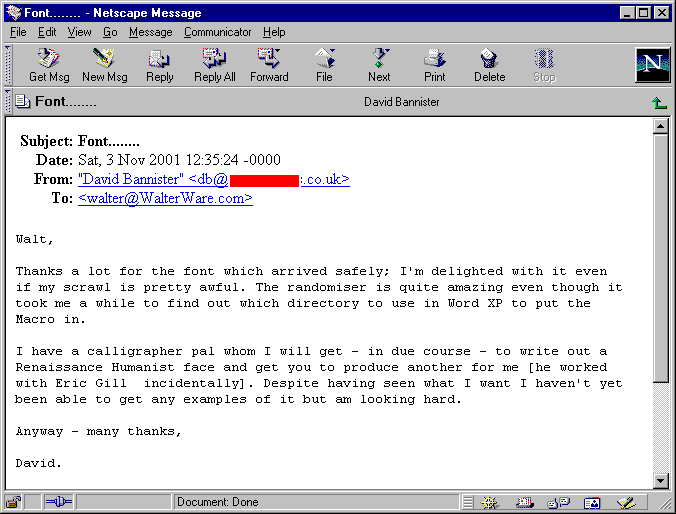 ---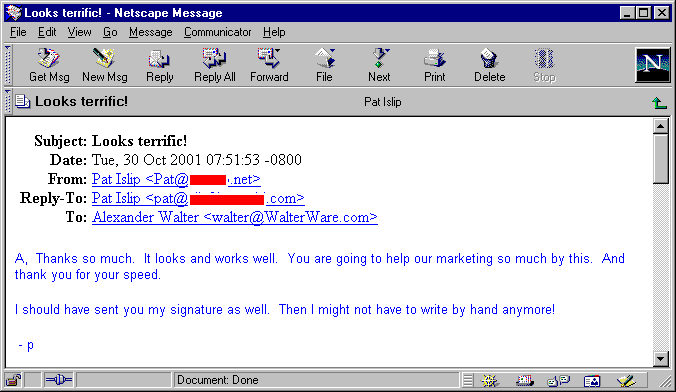 ---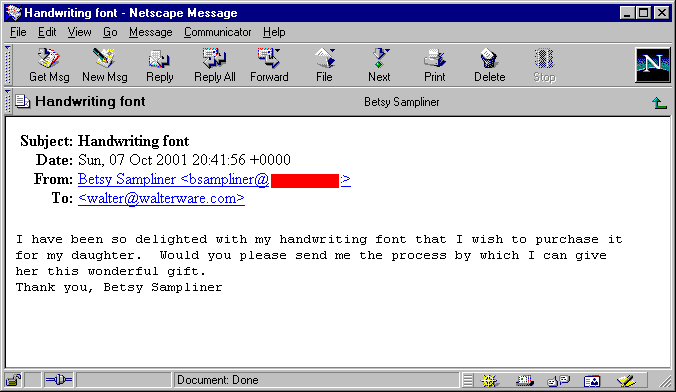 ---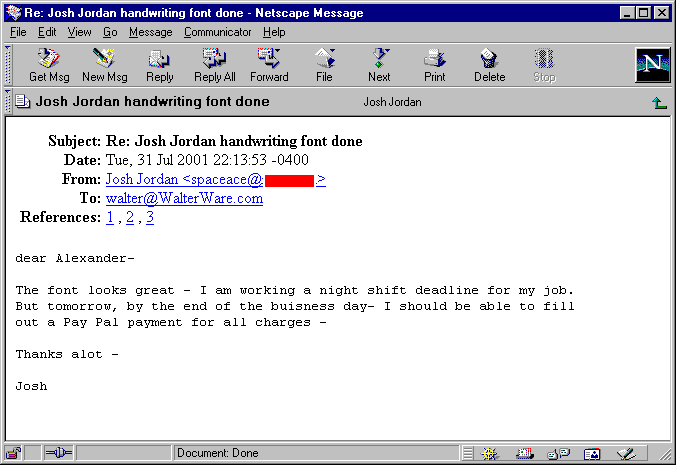 ---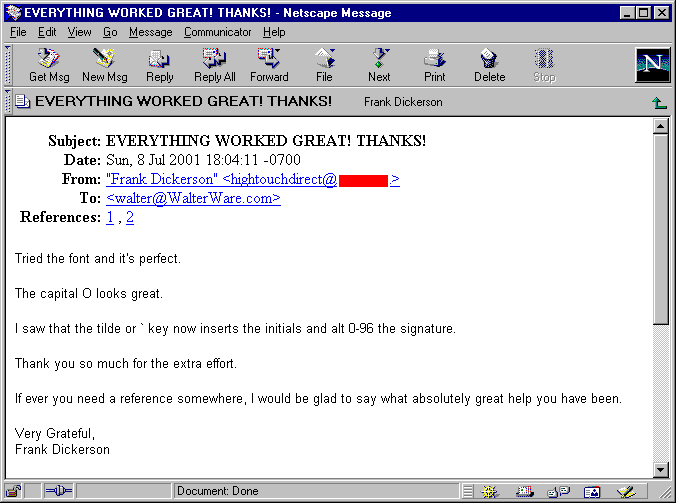 ---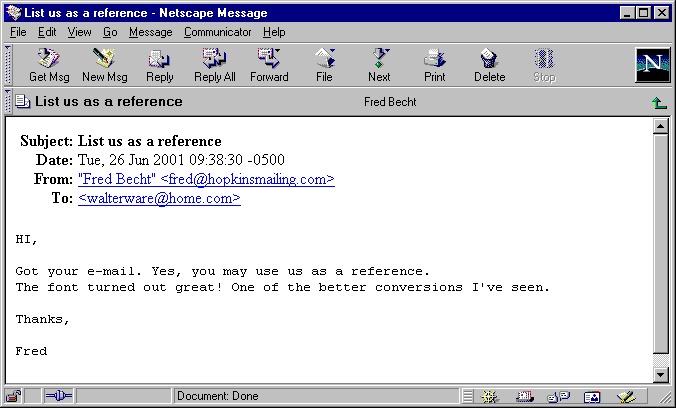 ---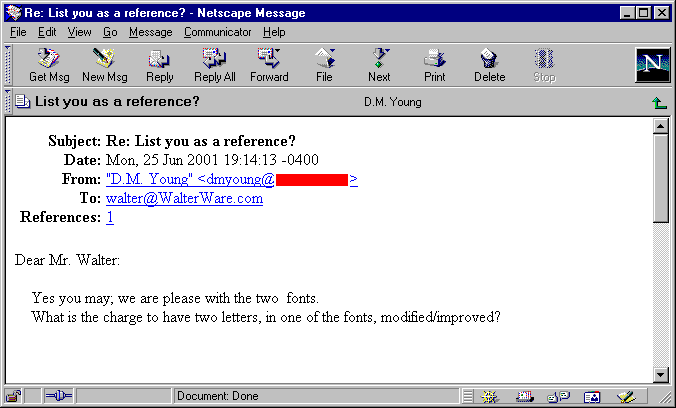 ---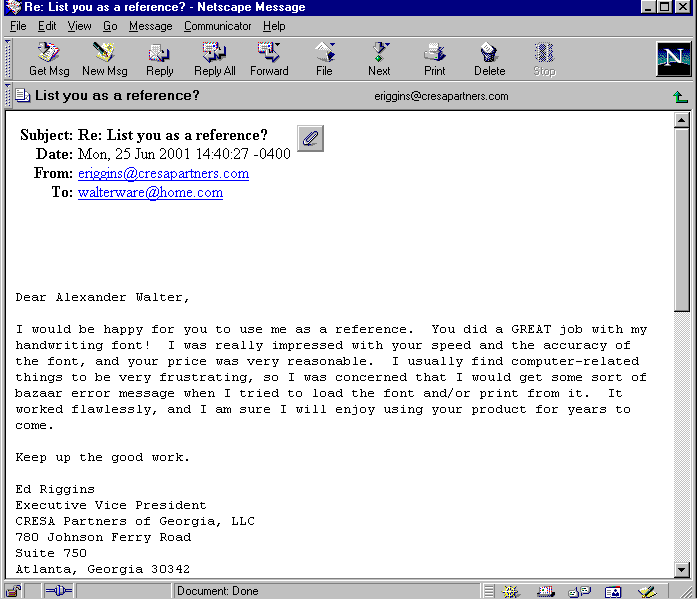 ---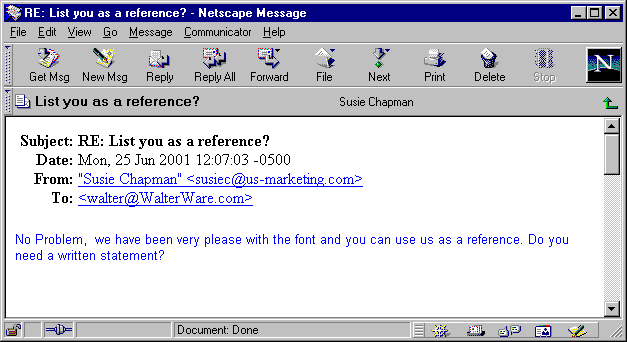 ---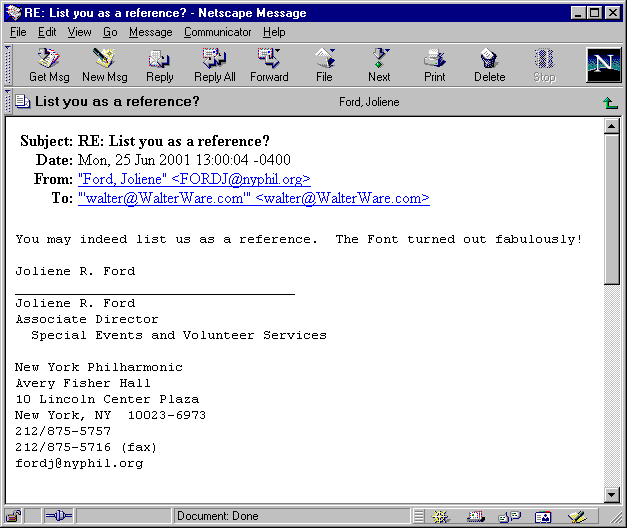 Other Shareware and Font-Related Products

Font Editor for LaserJet Bitmapped Fonts

TrueType to LaserJet Bitmapped Font Converter

Logo Fonts, Signature Fonts

UUencode & UUdecode. Translates binary files to/from ASCII so they can be e-mailed across mail systems that otherwise corrupt binary mail. Source code available -- can easily be incorporated into Visual Basic projects.

PCLdiet shrinks the size of PCL graphics files by using PCL more efficiently. It generates a "skinny" PCL file by replacing portions of your original "fat" PCL file with more efficient PCL commands understood by your LaserJet. A 60% - 70% reduction in size is typical. If your "fat" PCL file contains lots of straight lines and boxes, up to a 90% reduction in file size can be obtained.

QuickBasic math expression evaluator, with source code suitable for any Basic or Visual Basic project.

Further Information
Payment (unless otherwise noted) is accepted in US dollars by company or personal check drawn on a bank in the USA, money order, traveler's checks, cash, Western Union wire transfer (call for details), or COD via US Mail.

For further information, contact me at the address, or phone number below, or


send me e-mail now.

Alexander Walter
P.O. Box 741
Middletown, NJ.  07748
USA



(800) 262-0827   (USA & Canada only)
(609) 504-4804   (elsewhere)
(708) 575-3865   (fax)
adw@execpc.com
http://www.WalterWare.com

Need an unzip program? Download either: pkzip/pkunzip for DOS or Windows, or ZipIt 1.35 for Macintosh.
Member of the Internet Link Exchange



Recommended Books:
NY Times Best Sellers all at 50% off:



Handwriting Fonts and Other Font Products / Alexander Walter / adw@execpc.com
http://www.WalterWare.com/hw.html